1
No uncut portions or damage on the insulation
In the case of a 1-way irradiation device using a laser marker, or any other 2-way irradiation laser processing machine, there are portions that are not irradiated sufficiently by the laser, and also portions that are strongly irradiated.
In this machine, the laser is irradiated from four inclined directions based on a unique device mechanism. The entire circumference of the shield is cut uniformly.
<FBC Laser Shield Cutter>

<Laser marker and other general laser processing machines>

2
A wide range of processing can be performed through a simple operation.
The simple operation involves only setting the workpiece and pressing the start button.
By combining together the "Laser processing conditions" and "Processing position conditions", changes in processing conditions by process and by product, and continuous processing of several locations can be performed through a simple operation of pressing the recipe selection button.


6 sets of laminated cables consisting of 32 AWG 46 coaxial cables can be processed in a single operation.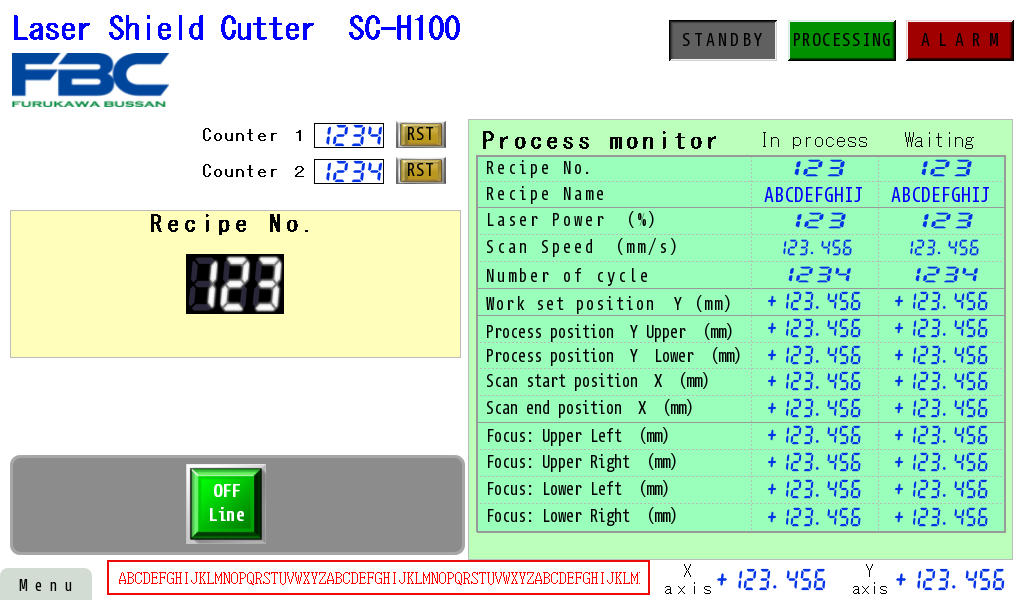 SC-H100 Touch screen
3
Micro-processing and high-accuracy processing are realized
Through optimization of the optical design, beam-shaped laser irradiation that is suitable for shield cutting is performed, and this enables high-accuracy processing and micro-processing having very less heat damage on the circumference.
4
Even micro braided wires do not require pre-soldering
A braided shield wire includes portions with double-wire thickness and portions with gaps as shown below. If the laser is irradiated, the shield wire that forms the inner layer in the double-wire portions remains uncut, and at the portions constituting the gaps, the laser permeates up to the inner insulator thus causing damage. Therefore, the extra labor of performing shield cutting after "pre-soldering" is required.
<Image of laser irradiation on braided wire>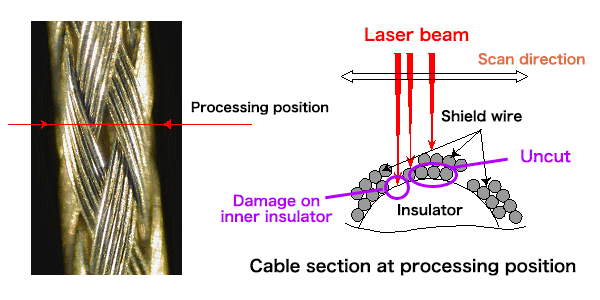 <Processing involving pre-soldering on braided wire>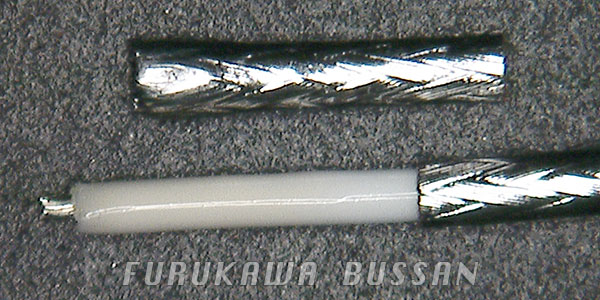 AWG26 braided coaxial wire
Since the 4-way laser irradiation enables uniform processing of the entire circumference by minimum laser irradiation, braided shield wires can be processed without leaving large scratches on the insulator even when pre-soldering is not performed.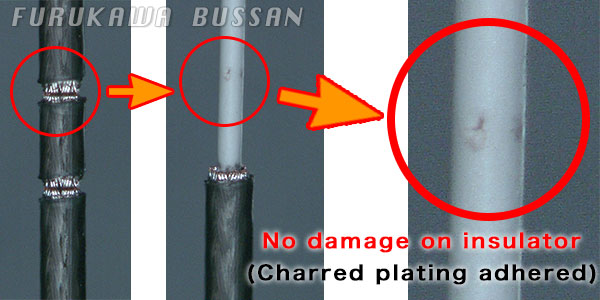 5
Numerical control of focus position adjustment
Numerical control of the focal position can be possible by a precision motor. The recipe can be registered according to the wire type and wire diameter, so you can only select the recipe to change the setup for small quantity and many kinds of products with different wire diameters! It is highly reproducible and there is no downtime during setup changes. Ideal to develop prototypes!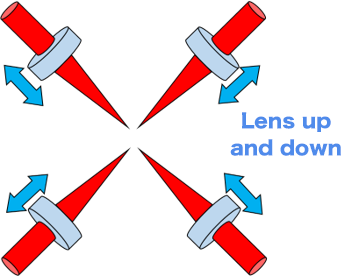 4-way irradiation focus position adjustment
6
Corresponds to automation line(external communication function added)
Equipped with external communication function(Optional) supports automated lines by communicating with host PCs and transport robots! It is also possible to make a proposal about the automated line by a manufacturer co-operating with our company.